Thamel is the main centre for tourists coming to Kathmandu. This tourist hub is home to travellers coming from different places outside and across the country, Nepal. Zig-zag alleys have several shops and sites. 
There are several things to do in Thamel. Jewellery shops, clubs, restaurants, garden, curio shops cover the area. Whether you want to sip your morning coffee at a silent cafe or dance to the beat of drums at a disco, there are plenty of options to choose from for you. 
Along with plenty of souvenir shops to chase, both trekking and mountaineering gear shops are present. And there is plenty of guesthouses, hostels and lodges for you to stay. This place never sleeps; you may spend the whole day cherishing each moment, indulging in different activities. 
We Present You The List Of 10 Best Things To Do in Thamel
Go For A Food Hunt 
Out of the ten best things to do in Thamel, one is to go for a food hunt. There reside so many restaurants serving different delicacies from across Nepal and the world. Thamel has eateries that provide Local, Chinese, Indian and Continental dishes. 
Do not miss out on the local Nepali dish Daal-Bhaat along with Gundruk and Dhido. 
And, it would be best if you tried different drinks from cocktails, fruit juice to hot beverages. There is a choice to occupy a corner of a local coffee shop and read your favourite book. Thamel has everything you want for a weekend. 
Attend A Music Show 
One of the best things to do in Thamel is attending a musical event. At different restaurants and pubs, you can plunge into the ecstatic melody of music. Different venues play various genres of music from grunge, jazz to classical music. 
Several bars host a musical night for rock and roll music that came to emerge since the era of the Hippies. It is a beautiful experience with talented artists and delicious food and drinks. You are sure to have a great time. 
Bar-Hopping For Fun 
Almost all the restaurants at Thamel are full of people, especially on Friday, Saturday and Sunday. The nightlife there is buzzing. While there exist big bars with the invigorated crowd if you like tiny bars with a quiet atmosphere and soothing music are available too. The ambience is tranquil with a chill vibe. 
You and your companions can go from bars to bar. With the different drinks and fun beat to tap your feet to, you might end up making friends. Some bars open till late in the morning so tourists can have the time of their life at Thamel. Plunge into the music and dance enjoyably. 
Indoor Fun With Archery, Wall Climbing, And Board Games
To the north of Thamel, there is a facility for fuss ball as well as archery. You may spend your time well with these indoor activities on a free day. If you prefer adventurous activities, there exist places for wall climbing like the Outdoor Adventure Center near BhagwanBahal or the Astrek Climbing Wall centre.
For those of you going for a trekking journey, wall climbing might be an ideal option which will help you warm up. There is training for climbing available too. 
Garden Of Dreams 
The neoclassical garden at the main entry point of Thamel is called Garden of Dreams. The Late Field Marshal Kaiser Shumsher Rana built this beautiful garden in the early 1920s. 
Garden of Dreams: Tranquil Oasis
This garden is famous as the garden of six seasons. It is, in fact, the most beautiful and classy garden from the 1920s. 
Garden of Dream is just two minutes from Central Thamel. There lie amazing details about the garden including the marble inscription from the Rubaiyat of Omar Khayam, the beautiful ponds and fountain with lotus flower, the hidden garden at the southern side and more. 
If you have time, you should plan a picnic for this place or go chill with a book. They offer you lawn mats where you are allowed to lay down. Kaiser Café is just around the corner; you could taste the coffee there. 
Movie Theatre 
Recently, the Chaya Center Complex came into existence at Thamel. For movie lovers, attend the multiplex theatre and watch a newly released movie of your choice. Take a friend or go solo. After you complete watching the film, you could go shopping or eat in the food court. 
Go Shopping 
There exist many small and big souvenir shops at Thamel. Shopping is among the best things to do in Thamel. You could buy souvenirs, books, trekking gears or anything you like. Many shops reside around the area with different products. And, trekkers can find affordable trekking gears at the adventure gear shops. Beautiful souvenir shops adorn the centre. Lastly, there lie book shops at every other all
Thamel Urban Buzz, Colorful Energy
Remember that you do not have to buy things when you go shopping, you could indulge in window shopping too. Exploring the shops on different streets is a fun idea as well. 
Short Rickshaw Tour 
Another one of the best things to do in Thamel goes on a rickshaw tour. The rickshaw can take you along the narrow alleys where you get to experience the local culture and even taste the local cuisine at local shops.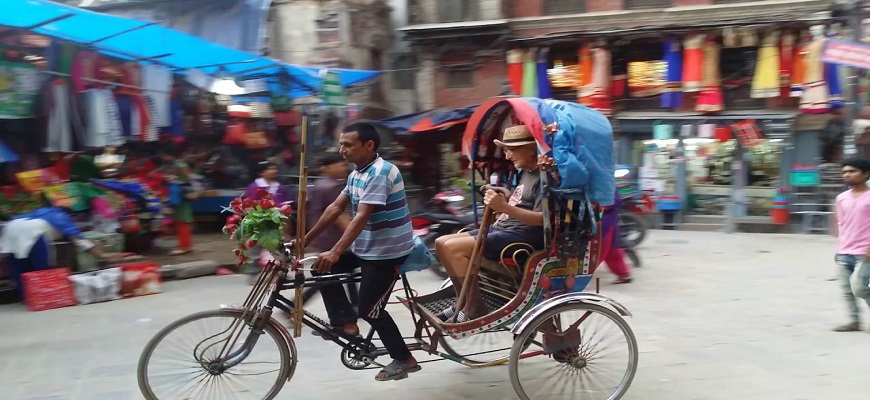 A rickshaw tour is a great way to immerse yourself in the life of Kathmandu. Travellers love the streets of Ason and Thamel. Such a trip with a guide shall help you explore and learn better about the places.  
Spa And Massages
Kathmandu has many entertaining massage parlours as well as natural therapy centres. Sauna, massages, Jacuzzi and many more things are available there. If you feel fatigued after a long journey or it has been a long day, we recommend you to go for specialized massages. The different massages are Thai Massage, Deep Tissue Massage, Ayurvedic Massage and more. 
When you look for massage and therapy centres on Google, make sure to check the reviews properly before getting there. 
Cooking Class
Holidays are the best time to learn a new skill. Another one of the beautiful things to do in Thamel is taking a cooking class. There is a centre for cooking lessons where you can hone your culinary skills and enhance your creativity when it comes to food. 
Now is your time to learn about the authentic spices and different dishes that are good for your palate, health along with your soul. 
We mention here the ten best things to do in Thamel. Make the most out of your time at Thamel with this elaborative list.