For many years, Kathmandu has been the epicentre of Nepal's beauty and the cynosure of the dynamic arena, drawing crowds of tourists from all over the world. Kathmandu and its surrounding areas are ideal for coming in touch with nature and learning more about other nationalities.
Typically, Kathmandu conjures up images of climbing to the world's highest peak, Mount Everest, and strolling through the forests, both of which require a lot of time and energy.
For those of you who aren't hardcore trekkers and don't have much time to devote to trekking, there are considerably more alternatives within easy reach of Kathmandu. There are several exciting sites to visit around Kathmandu. The best thing is that discovering them won't break the bank.
10 Attractions Near Kathmandu
This list of the top attractions to visit near Kathmandu will show you where to locate diverse natural beauties and tranquil invocations to make your trip truly memorable.
#1. Nagarkot
Nagarkot, located about 32 kilometres east of Kathmandu at an elevation of 2185 meters, offers panoramic views of the Himalayas and extraordinary scenic beauty. It radiates fresh feelings with its vast purity and wonderful ambience, making you feel more active and zestful.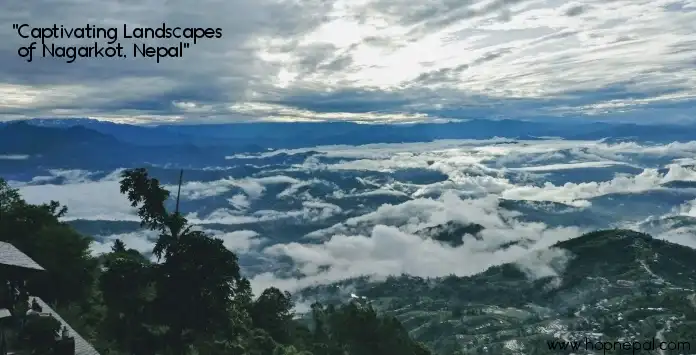 Caption: Majestic Outlook of the Hill and valley filled with Cloudes from Nagarkot
ten-locations-Its most famous sunrise views over the massive mountains captivate the spirits of all nature lovers, making it one of the most incredible spots to visit near Kathmandu. It is the location of an old fort that was designed to monitor the kingdoms' exterior actions. So, if you don't have much time to go far from Kathmandu, Nagarkot is the best alternative.
#2. Bhaktapur
The awe-inspiring ancient city of Bhaktapur is located inside the boundaries of Kathmandu valley, around a 30-minute drive from Thamel. During the Malla era, it was the capital of Nepal until the second part of the 15th century.
Bhaktapur, where Ancient Culture Breathes Life
This city was formerly recognized for its superb craftsmanship, civilizations, and temples, preserving that character. Bhaktapur is still a popular tourist destination for archaeologists since it is home to several architectural structures and temples. Strolling through the streets of this magnificent city transports you back to Nepal's ancient periods.
#3. Chisapani
Chisapani is ideal for adventure seekers since it provides a fantastic short hike that allows you to see the spectacular flora and animals along the route. The breathtaking views of mountains and lush landscapes freeze your senses and transport you to a new dreamland. This short hike will take you to Shivapuri National Park.
After a short journey through Shivapuri National Park's subtropical forest and passing past Kathmandu's primary water resource, you may have a delightful lunch in Malkharka. After a 1.5-hour journey, you will arrive at Chisapani, located at an elevation of 2215 meters. Chisapani is still a great area to visit near Kathmandu, Nepal.
#4. Dhulikhel
Dhulikhel, located at an elevation of 1550m, is one of Nepal's most beautiful spots. Those who want to enjoy Himalayan sceneries should go there at least once in their lives.
Dhulikhel An Enchanting Panorama of Hills and Valleys
You would be able to get sights of Langtang, Gauri Shankar, and Numbur from here. This less busy town will provide you with many unique moments, mainly when you visit its temples.
#5. Kakani
Kakani, home to the Tamang ethnic group and located at around 2.073m above sea level, is one of the most incredible destinations near Kathmandu for families. It's an ideal setting for a picnic or a family gathering. When you view the spectacular Dhaulagiri ranges, Ganesh Himal, and Annapurna here, you will be grateful.
Monastery Nestled in the Hills of Kakani
The Thai Memorable Park, which honours the 113 victims of the Thai Airlines tragedy in 1992, is the major attraction of this location. Kakani will undoubtedly leave you and your children with lovely memories since this serene park area has pleasant air.
The breathtaking vistas of the snow-covered mountains will take your breath away in the winter. In the winter, you can go skiing if there is enough snow.
#6. Namo Buddha
Namo Budha, a prominent Buddhist pilgrimage place, lies around 40 kilometres from Kathmandu.
Heavenly Views of Namo Buddha Monastery from Above
Thrangu Tashi Yangtse Monastery, home to 250 young monks, welcomes you with morning and evening prayers.
On Saturdays, the monastery is accessible to the general public. Otherwise, with permission, it can be visited on other days. Its one-of-a-kind architecture and calm atmosphere will undoubtedly soothe your tired hearts.
#7. Lakuri Bhanjyang
Do you like to go on an exciting adventure near Kathmandu in a short period? Don't worry; Lakuri Bhangang, located only 15 kilometres from Kathmandu, has prepared an excellent paragliding session for all adventurers.
This picturesque hill station provides routes for walking as well as incredible views of the surrounding mountain ranges. Lakuri Bhangang, with its tranquil beauty and natural richness, has become one of the best destinations to visit near Kathmandu, Nepal. People frequently visit this wonderful place with their family to have a taste of the picnics.
#8. Kulekhani
Kulekhani is a well-known hydroelectric dam that provides excellent boating and swimming possibilities in its lake-like setting.
A Day in the Heart of Kulekhani
Its majestic calm, fascinating rivers, lush terrain, and impressive waterfalls have made it one of the most excellent spots to explore near Kathmandu. There are several small Budha stupas along the path and a world-famous monastery, and a sacred cave.
#9. Gorkha
Gorkha is considered to be the birthplace of Nepal's founder, King Prithviraj Narayan Shah. Gorkha Durbar is a lovely historic palace on a hill that is world-renowned for its architecture.

In Gorkha, Every Stone Narrates a Tale of Bravery
Two extremely magnificent temples of Gorakhnath and Kali have been built within this castle. Gorkha is the most relaxing historical destination where you may unwind and appreciate nature.
#10. Helambu
Helambu, located around 72 kilometres northeast of Kathmandu, is world-renowned for its grandeur and peaceful surroundings. Several Buddhist temples have been built within a rich and attractive scenery, adding to its radiance.
Between Sky and Earth: The Mystic Helambu
It's the perfect destination for adrenaline junkies since they can journey on the trails. Sundarijal is the beginning point for the trip to Helambu.
CONCLUSION
Get ready to enjoy a montage of great sites around Kathmandu that will leave you with memorable memories. You will undoubtedly appreciate visiting these fascinating attractions around Kathmandu, especially since you will be able to do so in a relatively short period and at a minimal cost. A Nepal vacation would undoubtedly be rewarding if you visit the majority of these locations!