Overview Best Places in Kathmandu
For travel enthusiasts, we sometimes have those times when we really want to rejuvenate by travelling places but cannot fulfil our desires because of time limitations or other constraints. In such a glum situation, we drop the idea and chew over all the times we had the time to explore new places to our heart's content.
If you fall into this category of holidaymakers who have this trouble and are constantly wondering about places to visit near Kathmandu where you can spend some quality time and recharge your energy.
Do not worry about this on your next visit to Kathmandu for fun since we have come up with a list of some wonderful places to visit nearby Kathmandu in one day which are in proximity and are worth visiting.
Here Are The List Of Top 7 Places To Visit Near Kathmandu
1. Visit Basantapur Near Kathmandu
The day tour at Basantapur provides you with the opportunity to explore the exquisite historical, cultural and religious facet of Kathmandu since it comprises century-old fascinating architectures, monuments, eateries and so on.
Basantapur Timeless Beauty Preserved
Also, you have the choice to roam around the streets to study the structures and spend your time tasting the local delicacies in local food shops. Or else you can enjoy your time reading your favourite book in the nearby cafes or restaurants to your heart's content.
Even if it may sound like a never-ending list of things to do, given the proximity you can make the most out of your time by preplanning what to do one after the other so do not feel overwhelmed. Basantapur is also one of the best places to visit near Kathmandu.
On this amazing Basantapur tour, you should not forget to visit the Kathmandu Durbar Square, one of the Nepalese heritages listed in Cultural World Heritage Site by UNESCO and again, one of the three Durbar Squares in the capital city making it a centre of attraction for tourists.
Likewise, you have the opportunity to live the history of Kathmandu through the experience you can gain by visiting the site of the Hanuman Dhoka Palace which once used to be the residence of the Nepalese royalties during the eighteenth and nineteenth century where you shall understand the religious culture by visiting the House of "Kumari, the Living Goddess" which is at a very close distance.
Things To Do in Basantapur:
Explore and study the historical, cultural and religious side of Kathmandu.
Indulge in delicious food, fascinating architectures, and monuments.
Visit the residence of Nepalese royalties and the house of a living goddess "Kumari".
2. Visit Patan - Best Place To Visit Near Kathmandu
Patan, which is also known as Lalitpur, is located to the south of Kathmandu. There are plenty of things to do and see in Patan which you can do in a day in comfort. This place is trendy for the historically significant Durbar Square, temples and beautiful streets surrounding the area.
Lalitpur Ancient City's Modern Charm
Also, the Newari food available in the local restaurants and hotels is a must-try. Given the close distance of Patan to Kathmandu, we can see a lot of people touring around Patan; it is one of the most preferred short tour destinations because of its culturally significant structures and the wonderful environment that it has to offer.
There are amazing ancient temples, stupas, and shrines to see in the Patan sightseeing tour including the Golden Temple, Kumbheswar Temple, Uku Bahal or Rudravarna Mahavihar, Mahabouddha temple, Machindranath temple and the house of Kumari "the Living Goddess" of Patan. And you can always relish Newari cuisines in the local restaurants.
If you get lucky you can also observe the Newari festivals celebrated in Patan which make the place even more lively; make sure you find a spot at one of the balconies of the nearby restaurants on such occasion as the streets get really crowded.
Things To Do in Patan:
Stroll around the Patan streets and watch the Durbar Square and temples.
Take time to study the ancient stupas and shrines.
Taste the mouthwatering Newari delicacies.
3. Visit Bhaktapur Near Kathmandu
Bhaktapur is just twelve kilometres away from the city of Kathmandu and is also one of the top places near Kathmandu. It is very popular as the ancient city of temples, art crafts as well as culture.
Nyatapola Pagoda's Grandeur Preserved
If you are running short of time and are baffled concerning your tour choice, visit Bhaktapur because it is suitable for a short sightseeing tour. There are plenty of temples around here, and the area is well known for producing pottery, handicrafts, and puppets which you can observe as well as the purchase during your visit if you want to as souvenirs for yourselves or your friends and family back home.
Among the large number of things to see in Bhaktapur, some include the Bhaktapur Durbar Square, Basantapur Chowk, the palace of fifty-five windows, Pashupatinath Temple, Siddhi Laxmi Temple, the golden gate, Vatsala Durga Temple and Taleju bell, the pottery square, Nyatapola Square, Taumadhi Square, Dattatreya Square, and the Peacock window.
Moreover, do not forget to taste the famous royal curd named as"Juju Dhau" during your visit to Bhaktapur.
Things To Do in Bhaktapur:
Observe the local art, culture, and handicrafts.
Visit the Durbar Square and temples around the area.
Taste the king curd "Juju Dhau."
4. Visit Dhulikhel Nearby Kathmandu
Dhulikhel is situated in the Eastern Rim of Kathmandu valley flaunting tourist destinations with spots that are ideal for observing natural scenarios along with the historically and culturally significant elements. Dhulikhel is suitable for both short and long hiking routes.
Dhulikhel Tranquil Hills, Serene Beauty
The short hiking routes include walks to Panauti, Kavre village, Opi village and to Hazaar Sindhi which may take half of your day. Also, you can indulge in the joy of bird/butterfly watching from different places inside Dhulikhel like the Hazaar Sindhi, Gosaikunda forest and Thulochaur Kavre.
For those who love to rejuvenate indoors, do not worry, we have an idea for you too; you can spend your time in one of the best resorts in Dhulikhel that offer a panoramic view of the spectacular mountains like Mt. Annapurna, Mt. Ganesh, Mt. Gaurishankar, Mt. Lhotse and so on and provide wonderful services to you during your stay there.
If you have a single day left for travel, you can start early from Kathmandu, then go to Dhulikhel, have lunch there, spend the whole day joyfully and return to Kathmandu in the evening with ease. Dhulikhel counts on the nearest places to visit nearby Kathmandu.
The major attractions near Dhulikhel region include the Panauti village to the south-east of Dhulikhel, Namobuddha, Palanchowk Bhagwati, Chandeswori Temple, Nala, and Sangha.
Few of these places can be covered during your Dhulikhel tour with proper time management however others need to be toured using a whole day for they are so much to explore in those places like Namobuddha or the Panauti village.

Namobuddha Serenity in Sacred Silence


Things To Do in Dhulikhel:
Short hike to Panauti, Kavre village, Opi village or Hazaar Sindhi.
Bird or butterfly watching from Hazaar Sindhi, Gosainkunda forest or Thulochaur Kavre.
Relax indoors in a resort relishing the view of mountains with a book or some music.
5. Visit Nagarkot - One Of The Nearest Place To Visit in Kathmandu
Nagarkot is located thirty-two kilometres east of Kathmandu in the Bhaktapur District. This place is a popular hill station for the beautiful setting it has and the scenic views it has to offer. To tell of the natural beauty, you can observe at Nagarkot is beyond the power of written or spoken words.
Nagarkot Mountain Vista, Tranquil Retreat
You will be absolutely delighted to see the magnificent sunrise view of the Himalayas which includes the Mount Everest and other peaks of the Eastern Himalayan Range.
Nagarkot is considered an extremely picturesque spot. You can have a sunrise tour in Nagarkot, and here you can start early from Kathmandu to reach Nagarkot to observe the majestic sunrise view and then spend some quality time around this beautiful area.
The place is also a trendy route for hikers. For hikers, an excellent walking tour takes approximately four hours hiking from Nagarkot to reach Changunarayan temple where you start from Kathmandu to reach Nagarkot from where you hike from Nagarkot to Changunarayan and then get back to Kathmandu by evening. This is a place near Kathmandu, which is short and easy for adventure activity for travel enthusiasts.
Things To Do in Nagarkot:
Watch the beautiful sunrise early in the morning.
Relish the views of majestic Mount Everest with other peaks with a hot beverage.
Take a short hike to Changunarayan by starting early from Kathmandu.
6. Visit Chandragiri - Best Spot To Visit Near Kathmandu
The Chandragiri Hill is located on the Southwest part of the Kathmandu Valley; it is just seven Kilometres from Thankot. This place is both culturally and historically important.
Chandragiri Hills Majestic Views Awaits
It is historically significant because of the belief that it is associated with the unification of Nepal by Late King Prithvi Narayan Shah and again, it is considered as the historic trade route which passes through Kulekhani, Chitlang.
The Bhaleshwar Mahadev Temple on the top of Chandragiri Hill is revered by pilgrims and has been a major attraction for both internal and external tourists. Many tourists go to Chandragiri with the sole purpose of visiting this temple.
This place can be explored in less than a day. You can either hike to Chandragiri or use the cable car transportation facility for reaching the top of the hill.
Things To Do in Chandragiri:
Visit the Bhaleshwar Mahadev Temple through the cable car.
Watch the beautiful scenery of the lush green forests and mountains.
7. Visit Kakani Nearby Kathmandu
Kakani is located twenty-six kilometres north-west of the capital city, and it's one of the top places near Kathmandu valley. It is approximately half an hour away if travelled on the bus however it has been popular as a hiking and cycling route.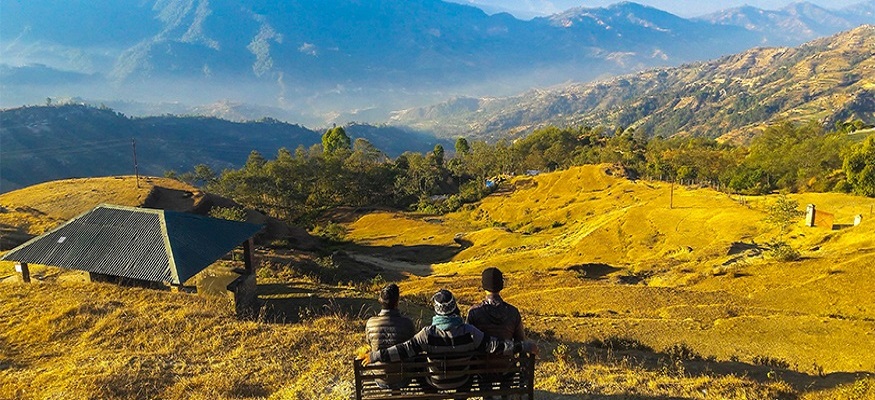 This famous day tour spot is ideal for having a good look at the majestic mountains like Manaslu, Annapurna, Ganesh, Langtang and so on in peace. Also, you can view the Kathmandu valley from Kakani and observe the mesmerizing view of Rhododendrons on the mountain gradients, especially in the winter season.
The spots you can visit in Kakani are the Thai Airways Memorial Park and the old villa used by the British Embassy for centuries.
The park is popular as a picnic spot; oftentimes it is used for family gathering and cycling. You can travel here by hiking or through a reserved vehicle or on a bike ride.
Things To Do in Kakani:
Visit the old summer villa used by the British Embassy.
Have a family picnic at the Thai Airways Memorial Park.
Finally,
We hope that this detailed information about places near Kathmandu will help by guiding you for short day tours and that you can travel to different places as much as possible. We are happy to assist you in making the most out of your stay in Nepal.