With the increase of trekkers in Nepal, teahouse trekking has grown in popularity. Tent camping was the only choice for trekkers to relax in the beautiful mountains' foothills in the past.
It was a costly and challenging alternative because the trekker had to carry all the equipment and rely on porters and cooks to carry the luggage and cook supper at night. The teahouse arose with increased trekkers and a passion for nature, making the stay more affordable and convenient.
Initially, the teahouse was a spot for trekkers to unwind and sip tea. Later, the teahouse's owner converted it into a multi-room lodge with beds and food service. Today, teahouses line the main and even secluded hiking trails, allowing trekkers to enjoy their walks without the hassle of heavy equipment or assistants.
What Do You Mean By A Teahouse?
Teahouses are lodges along trekking trails that provide simple but decent accommodations and food.
Image Source: Himalayas on Foot
Caption: Teahouse in Nepal
Teahouses depend on location, but most are stone and timber structures with a kitchen, eating area, toilet area, and bedrooms with two single beds and a table. Teahouses with multi-story facilities with adjoining restrooms can be seen at lower altitudes. However, as you ascend, the amenities get increasingly primitive.
Teahouse Foods and Drinks
Families usually run the teahouses. The typical Nepali food, such as Dhal Bhaat, consists of steamed rice, curries, lentil soup and pickle. You can also find pasta, momos (dumplings), noodles and pizza in most teahouses. Make sure you check if the foods are available before you make an order. Eat fresh food only, as you might want to avoid getting sick while on the trek.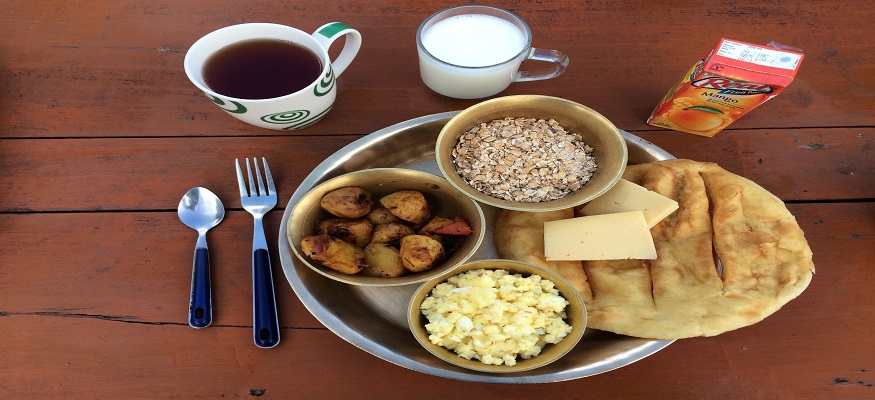 Image Source: One Seed Expeditions
Caption: Breakfast in Teahouses
Most hikers choose the traditional Nepali Dhal Bhaat since it is nutritious and widely accessible. Boiling water, sodas, and soft drinks are available as beverages. These drinks will cost you more money as you travel higher in altitude. The higher you go on the walk, the more expensive the meals become.
Breakfast
Tea, coffee, and juice

Bacon/ham/sausage

Eggs

Toast with jam/butter/honey

Tibetan bread, chapati, museli porridge

Pancakes/crepes
Lunch/Dinner
Pasta and noodles: noodle soup, chowmein, fried rice, and spaghetti

Dal Bhaat, momos

Chips, popcorn, potatoes

Spring rolls

Sandwiches and soup

Pizza
Dessert
Chocolate pudding

Rice pudding

Banana or apple fritters
Amenities in Teahouses
Internet and power are now available in the majority of Nepalese teahouses. However, due to the routers' age, the internet connection may need to be faster. You may also be unable to use cellular data packs due to a poor network connection.
In addition, most teahouses charge between $2 and $3 to charge your phone or device. Because power outages are common, most teahouses employ solar power to charge your devices.
Due to inclement weather or overcast days, there may be no lights or power outages for several hours. So, have an extra battery pack or power bank for your electronics.
What Type of Rooms Are There In The Teahouse?
Usually, teahouses provide a simple shared room with two or three beds, a window, and a personal lock for your door. The beds are pretty comfy, with foam mattresses, pillows, and blankets.
Image Source: Holy Mountain Treks
Caption: Beds in Teahouses
It is recommended that you bring your sleeping bag to guarantee that you are warm at night and that you are not concerned about hygiene. Furthermore, the wooden walls in the rooms are thin, and you can hear the noises. Bring your earplugs to the trip if you are a light sleeper for a good night's sleep.
During high season, you may be required to utilize the shared room since the path becomes overcrowded with trekkers and the teahouse owners request that you share the rooms to preserve space. Because teahouses are few and everyone needs to relax, you may have to share rooms with other trekkers.
Facilities For Showers And Toilets In A Teahouse
Either the traditional squat toilets or western-style toilets are available in the teahouses. You could find a western-style bathroom in lower altitudes, but as you climb higher, you'll find a traditional one.
Make sure you have adequate hand sanitiser and toilet paper with you. It may be present in areas with lower elevations, and showers may only sometimes have access to hot water. It is advised that you bring wet wipes rather than having a shower.
Best Teahouse Trekking Routes In Nepal
Aside from the grandeur of the trekking paths, teahouse trekking is renowned in Nepal as one of the most incredible treks to undertake. You can enjoy the hike without carrying heavy equipment, and the lodges or guesthouses provide a warm and comfortable place to stay. You can take pleasure in the well-known teahouse treks in Everest, Manaslu, 
Annapurna, and Langtang regions.
Everest Region
Many trekkers travel to Nepal to experience the Everest Region, one of the most incredible teahouse trekking routes in the world, where they may see the tallest peak on Earth. The Everest region is popular with both luxury hikers and budget travellers.
Image Source: Himalayas on Foot
Caption: Teahouses in Everest Region
Depending on your interests, you may choose both teahouses and opulent hotels for your overnight stay. While you may find minimal amenities at teahouses in higher altitude locations like Pheriche, Dzongla, and Gorakshep, you can also find luxurious accommodations in Namche Bazaar, Lukla, Gokyo, and Dingboche. You may stay luxurious at the Hotel Everest View, Everest Summit Lodge, and Yeti Mountain Home.
The most famous trek in Nepal is to Everest Base Camp, where there are several essential to excellent teahouses. You can locate a teahouse along the path to stay in; depending on how isolated the trail is, some spots have a few or just one teahouse.
You may obtain hot water and a broad choice of meals at lower altitudes. Higher elevations could only have rudimentary amenities like food and lodging.
A fantastic combo trip that showcases the finest of the Khumbu region is the Everest Base Camp and Gokyo trek. From Lukla, the tour proceeds to Kala Patthar, where it terminates. In the lower area, there are several teahouses with basic amenities. As you ascend in height, a few teahouses with limited amenities may be found. A sleeping bag should be brought along for warmth.
Manaslu Region
The Manaslu area is a remote hiking trail where you may experience its unspoiled wildness and natural splendour. The walk offers untouched beauty and is now accessible to hikers from all over the world. The area has a beautiful blend of natural majesty and cultural attractiveness. You may visit the Manaslu Circuit Trek, Larke Pass, Nar-Phu Gaon, Tsum Valley, and many more places along the path.
Image Source: Everest Trekking Routes
Caption: Teahouse in Manaslu Region
One of the beautiful hikes in the Manaslu area is the Manaslu Trek. Teahouses might not be as standard as they are on other paths. You can get lodging and food of varying quality levels at a fair price.
The Tsum Valley Trek takes hikers to the Buddhist pilgrimage valley in Nepal and provides beautiful vistas of the Manaslu area. There may be fewer high-quality teahouses there than in the other areas because it is very secluded and remote.
Annapurna Region
About two-thirds of trekkers travel to Nepal's most popular trekking route, the Annapurna area. With a variety of hotels and teahouses scattered throughout the mountains, the region is very accessible. Annapurna Base Camp Trek, Annapurna Circuit, and Poon Hill Trek are Annapurna's three main hiking routes.
Image Source: Matador Network
Caption: Teahouses in Annapurna Region
A well-known teahouse hiking route with a broad selection of teahouses is the Annapurna Base Camp Trek. There are high-quality teahouses along the path where the walk typically lasts 15 days. There are teahouses with essential to superior amenities. You get cosy mattresses, warm blankets, and regional delicacies without bringing bulky equipment.
Along with hot springs and comfy mattresses, you'll discover various meals, including western, Chinese, Indian, and Nepali cuisine. You must only make reservations for the teahouses in advance, except for the busy spring and fall seasons.
Along the way of the Annapurna Circuit, there are finer teahouses with top-notch amenities. Teahouses may be found along the trail's shorter section. Depending on the season, the costs may change. Make sure you reserve in advance during the busy spring and fall seasons.
Langtang Region
The nearest trekking location to the capital city is the Langtang area, situated northwest of Kathmandu. The main attraction in this area is Laurinayak Pass, where you can see some of Nepal's most famous peaks, including Makalu and Annapurna.
Image Source: Himalayan Wonders
Caption: Teahouses in Langtang Region
You may go to areas where people practice their religion, including the sacred lake Gosaikunda, where Lord Shiva resides. On the trekking path, you can experience the Sherpa and Tamang people's rich cultural diversity. You may sample the well-known yak cheese and take in some Tibetan customs.
Excellent trekking trails and high-quality teahouses may be found in the Langtang area. Tents are optional because most rest stops have cosy lodgings, so you don't need to bring any. Local food and hot water facilities range from good to mediocre.
Advantages Of Nepal Teahouse Trekking
Convenience
The teahouses provide the utmost convenience. They are well situated for hikers to halt and stay the night so they can rest soundly. Most trekkers can now find the most basic yet comfortable amenities at well-established teahouses.
Local Touch
You will meet the locals while participating in teahouse trekking, where you may converse and swap stories. You can immediately assist them by comprehending their regular tasks. You may savour their organic fare and support nearby farmers simultaneously.
Comfortable
The hikers can stay in comfort at the teahouses. It helps them to reduce their packing gear. Since you won't need to bring any additional camping gear, your bag will be lighter. For your comfort, mattresses and blankets are provided in the teahouses.
Difference Between Camping Trekking and Teahouse
Camping Trekking
Trekking with tents put up in a perfect place while out on a camping trip is a fantastic experience. You'll need a qualified guide to provide information on the journey, the weather, and the terrain; a porter will carry your baggage and erect your tents, and a cook will make delectable meals for you.
To keep your necessities organized, you must carry a little bag. Anywhere in Nepal is suitable for camping treks, although most hikers like secluded, off-the-beaten-path locations. For this hike, sleeping bags are a necessity.
Teahouse Trekking
Here, hikers take advantage of a pleasant stay in a handy setting to rest the night. The majority of teahouses are located along well-known hiking routes.
After spending several hours wandering, you may relax at the teahouse and savour their locally grown meals. Enjoy the heated bedrooms without carrying any additional camping gear. You can bring a second sleeping bag if you like.
Why Trek to a Teahouse in Nepal?
No Equipment
A teahouse walk does not require any heavy equipment. You do not need to bring any camping equipment. You may enjoy luxurious accommodations, beds, and delectable meals.
Discover the locals' way of life and culture
The teahouses allow you to experience the dining, living, and everyday tasks of the local families that manage and own them. You may tell your story and listen to others.
Affordable
Teahouse treks are less expensive than tent hikes. You don't need as many supplies, gear, or hiking crew as porters or chefs.
Tips For Teahouse Trekkers
If you still need to reserve a space, arrive at the teahouse before 7 p.m. After this hour, most teahouses do not offer meals.

Bring a sleeping bag and a liner for additional warmth. It is helpful when teahouses run out of extra blankets during the busy season.

The community restrooms are typically located outside the teahouse at higher altitudes on the hike. Bring a flashlight for late-night bathroom trips.

The popular routes are packed during high season, so plan to find another teahouse. Otherwise, pack a sleeping bag and spend the night on the teahouse floor.

For dependable, trustworthy teahouse recommendations, conduct research or ask other hikers.