Are you planning to visit Nepal?
Great!! There are lots of exciting stuff you should not miss while spending your vacation in Nepal.
Here are Top 10 Things To Do During Your Visit To Nepal
1) Climb Mount Everest
While exploring Nepal, make time to ascent the highest peak on the globe or any other 11 highest mountains all situated in Nepal. Mounting Everest charges approximately US $ 50,000 but the sight of the Everest and the other Himalayas comes with no charge.
Iconic Mount Everest's Grandeur
Also, you can explore Nepal to relish the great sights of Himalayas along with the Everest. Nevertheless, climbing them would be more fun. Come to Nepal and enjoy climbing Mount Everest.
2) Nagarkot and Sunrise
While visiting Nepal, if you miss exploring Nagarkot, then you are missing the huge part of the fun. After waking up early in the morning and make your journey to Nagarkot, the soft town 30KM far from Kathmandu valley. However, it is better to spend a night in the resort. Here, you can view the sunrise from there, which is truly breathtaking.
Nagarkot's Golden Morning Glow
Also, you can enjoy the wonderful sight of the Himalayas. Nagarkot is situated on the edge of the Kathmandu Gorge at an altitude of 7200 ft. You can have an adoring Himalayan sight that ranges from Dhaulagiri in the west towards yonder Mt. Everest in the east. 
3) Taste Nepali Tea
Nepali organic tea is known globally for its incredible fragrance, brusque, feel and taste.
Best Companionship in cold weather is Tea
The calm wafts from the stimulating Himalayan assortment and young tea greeneries give to the eminence of Nepali Tea. You will be tempted by the wonderful taste you ever had.
4) Plan For Trekking
Plan for backpack or tea house trekking or self-arranged journey in Solukhumbu, Jugal Himal, Gosaikunda, Helambu, Langtang, Baglung, Jomsom, Tatopani, Ghandruk, Annapurna, Lamudada, Jiri, Gokyo, Everest Base Camp, Namche Bazaar or only regarding any mountains or trekking paths in Nepal.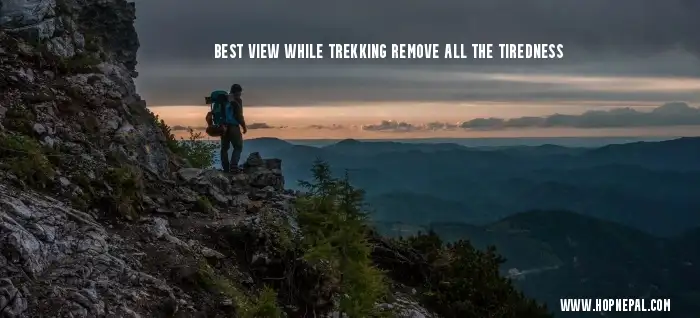 Adventurous Trekking Amidst Stunning Landscapes
Of any kind be your journey's end, the main benefit is that you are likely to find Nepal picture-perfect and exploratory. 
5) Nepali Cuisine
You must go for true Nepali cuisine during your visit to Nepal. You are likely to love the fragility and the figurine taste of enjoying it.
Delicious Nepali Culinary Delights
Every hotel, large or small, can deliver you the yummy taste of the Nepali cuisine. 
6) Speak Nepali Tongue
Are you willing to speak the Nepali Language? Devote only 4 to 5 weeks, and you will be speaking this superb Nepali Language easily and instantly.
Learn the Nepali language; it is delightful and stimulating. It is easy to comprehend and simple to speak.
7) Shop in Thamel
Appealing, attractive mementoes like Nepali handiworks, incredible Thankas, Nepali outfits and delicious native and worldwide foods nearly network the complete Thamel ways.
Bustling Streets of Thamel
Each shop carefully takes your devotion parting you destitute and obligatory to purchase them. Make time to walk in Thamel without spending a single item; can you take an encounter.
8) Bungee Jump
Bungee jumping is one of the best activity to do while visiting Nepal. Try the most remarkable jump in the globe. A 160-m extensive steel deferral bridge/ the lengthiest deferral bridge of Nepal provides you with a breath enchanting 160m profundity, a splendid jump of your lifetime.
Thrilling Bungee Jumping Adventure
The effort to experience this hedge providing you goosebumps that you can never forget.
9) Temple City
Kathmandu valley is 218 sq. miles of land located above 4400 ft above the sea level with 3 significant, creative and ethnic towns that includes Kathmandu, Bhaktapur, and Lalitpur. Kathmandu Valley is also popular as the city of Temples.
Scenic Kathmandu Valley Panorama
Move for 5-10 minutes in any way in Kathmandu; you will certainly discover a temple on left and right. There are about 5 temples per sq. miles inside Kathmandu. You can see the temple city(Kathmandu) during your visit to Nepal.
10) River Rafting Adventures
Nepal consists of the finest streams in the globe that offer you outstanding prospects for stream exploits.
Thrilling White Water Rafting
Strong waterfalls, stunning wasteland parts, and luxurious green gorge will increase your excitement. Drive for white water river rafting exploits. River rafting adventure is also one of the best things to do in Nepal.
Wrapping Up,
These are the top things to do during your visit to Nepal. If you are planning to visit Nepal, please feel free to contact us anytime you wish.