Nepal has gained quite a reputation for its breathtaking mountains. Situated in the lap of the Himalayas, Nepal has mountains that many wish to scale. Home to the highest peak in the world and many other mesmerizing mountains, Nepal has been a common choice for trekkers around the world.
However, Majestic Mountains is not the only things that it has to offer. Take a look at what this small landlocked country has to offer, and you shall remain breathless!
Jaw-dropping sceneries to cosy little local hotels, lush green forests were thriving with life to the dry and desolate valleys! Along with its friendly locals and untapped tourism potential, Nepal is truly a place for those trekkers who seek adventure. And the most significant thing about your journey? It can be managed at a low cost so that you will get more for less!
The cost Trek to Nepal is less compared to other nation and offers quite a bit of diversity too so that you can have fun on a budget! City tours to mountain climbing, you name it! Booking a trek in Nepal will not disappoint you.
While trekking in Nepal seems fun, the planning, however, is a bit tough part. Have you been looking for Trekking guide for Nepal? In case you were looking for a Trekking guide for Nepal here is an extensive guide for all of you people who are visiting Nepal 2020 or plan to do so.
Overview on Trek to Nepal
A trek to Nepal, the mystical country of the Himalayas, is an experience to remember. Days of hiking on beaten paths, fatigued from travelling, exhilarating adventures; these are some valuable memories that you will collect along the way.
Exploring Trails Trekking Adventures Await
While the luxury of fine dining and bed may not find its way to you, the warmth of the locals here will surely touch your heart! Be prepared to be invited over by Nepalese locals for a cup of tea and even a meal at times. Cosying up in their house, having a chat will relieve all of your fatigue from days of travelling.
Imagining the days to come in your treks is incredible, but first, it is necessary to prepare you for the Nepal trek. This exclusive trekking guide for Nepal will make you fully geared up for a trek of your lifetime!
If you are facing any problems while choosing the right package, We listed some of the trekking destinations in Nepal that might you love the most.
Here is List of Top 12 Best Treks of Nepal
1. Everest Base Camp Trekking
Difficulty: Tough
Elevation: 5,545m (Kala Patthar)
Time: 14 to 16 days
Best Time To Trek: March-April and October-November
Accommodation: Lodges
Cost: USD 1050 - 1400
Permits: TIMS, Sagarmatha National Park entry permit, Gaurishankar Conservation Area Project permit (Optional)
Everest Base Camp: Majestic Heights
Let's start the list with one of the most sought after treks, the Everest base camp trek. Nothing compares to a trek in the Himalayas. You can reach there by taking a bumpy ride to Lukla, or if you are in search of some hardcore adventure, you can drive or take a bus to Jiri and walk for about a week to Lukla (this will extend your trip quite a bit, please talk to your agency about this).
You will need the above mentioned optional permit if plan to walk to Lukla. If you plan to take the plane, the weather can get bad and stop the flights so prepare to stay in Lukla for a while during your return trip!
Now you are welcomed into the warm and rugged Sherpa culture that surrounds most of the villages here. Because of the thin air, it is highly suggested that you ascend slowly to let your body adapt.
What is exciting about this trip is that you will get to witness 3 of the tallest mountains in the world, Cho Oyu, Lhotse, and Makalu. And as for the majestic Mount Everest, you can get the most unobstructed view from Kala Patthar and thus mark your trek accomplished!
2. The Three Passes Trekking
Difficulty: Tough
Elevation: 5,545m (Kala Patthar)
Time: 20 to 22 days
When to go: March - mid-May and October-November
Accommodation: Lodges
Cost: About USD 1500
Permits: TIMS, Sagarmatha National Park entry permit
Three Passes Trek: Alpine Adventure
Now, this epic journey is that of three challenging passes, Kongma La (5,535m), Cho La (5,380m) and Renjo La (5,388m). It also begins at Lukla Airport. And as same as the Everest base camp trek leads to Namche and head towards the first pass.
First comes the Kongma La and along the way is Kala Patthar. Kala Patthar can be considered optional if you don't want to miss out on some breathtaking views of the Everest. But discuss it with your travel agencies before booking a trek and with trekking guides along the trip too.
Then you reach Lobuche, where you deviate from the Everest base camp hikers. Leaving the hordes of people there for the Everest base camp you can start your silent journey towards Cho La. The journey is breathtaking due to the cold, but worth every bit. After Cho La, you shall go to Renjo La then descend to Lukla.
3. Kanchenjunga Circuit Trekking
Difficulty: Tough
Elevation: 5,388m (Pangpema View Point)
Time: 20 to 25 days
When to go: March-May and September-November
Accommodation: Small lodges
Cost: USD 1000 - 1200
Permits: Kanchenjunga Restricted Area Entry Permit
Kanchenjunga Circuit Himalayan Wilderness
Less popular than the Everest base camp but still a gem for any trekker seeking adventure by trekking in the Himalayas. However, this is a restricted trekking area so that you will require an entry permit, which won't be issued to you directly. You will need at least one local guide and two trekkers.
So you will need to contact your travelling agency for it. As for the journey, you will take a plane to Bhadrapur from Kathmandu, then take a bus or local Jeep to Birtamode and another bus from there to Taplejung.
After this hectic travel, your beautiful trek to Nepal begins as you hike from Taplejung to Chiruwa. Amazing view of the Kanchenjunga is something to thrive for in this trek.
Famous for its scenic beauty, the trek is quite challenging and has a lot of areas to cover. The circuit has two base camps, northern Pangpema base camp, and southern Oktang base camp.
The highest point of the circuit being Pangpema base camp, the northern side is a bit more challenging. Depending upon your time limit, you can either choose northern or the southern base camp.
Or if you are feeling adventurous, you can take on both sides by adding a few more days to your itinerary. Again planning before booking the trek is highly suggested or discussing with your trekking guide.
4. Manaslu Trekking
Difficulty: Medium
Elevation: 5125m (Larkya Pass)
Time: 14 to 20 days
When To Go: March-May and September-November
Accommodation: Lodges
Cost: USD 1100 - 1200
Permits: TIMS, MCAP-permit, ACAP-permit, Manaslu RAP
Manaslu Trek Himalayan Odyssey Begins
It is one of the trekking routes that is getting famous by the day. The beautiful sight of the Manaslu Mountain (which happens to be the 8th tallest mountain at 8,163m!), the Ganesh mountain range will truly leave you enchanted. Although this area has been severely affected by the massive earthquake of 2015, the process of restoration is underway.
This area is quite diverse as you start quite low and slowly make your way to the Larkya pass, which can be very difficult to cross if there is snow. The Nepal best trek begins from Soti Khola and ends at Chyamche. Full of green forests, alpine meadows, and some fascinating high altitude structures, this is a trip of wonders!
You will need different permits for this trip. i.e., Manaslu Conservation Area Project permit (MACP permit), Annapurna Conservation Area project permit (ACAP permit) and Manaslu Restricted Area Permit (Manaslu RAP). Be sure to contact your agency and trekking guide for the permits.
5. The Great Himalayan Trail
Difficulty: Tough
Elevation: 6,146m
Time: around 150 days
When To Go: September to November
Accommodation: Lodges
Cost: Extremely variable
Permits: Contact Tourist Board for the list of permits
Great Himalayan Trail: Trekking Dreams
So you are the adventurous one, who wants to do it all see it all and feel it all! Then this is the trek for you! From west to the east take a look at all the majestic Himalayas that this country is offering.
You can catch a glimpse of the Himalayan lifestyle and all the Himalayas all in one go. The trek has two roots the high route and the low route. You can alternate between them at specific points with the help of maps and your guides. The high route consists of high passes with altitudes up to 6,146m while the low route has lush green forests and hills. It is a tough one!
6. Upper Mustang Trekking
Difficulty: Medium
Elevation: 4230m
Time: 14 days
When to go: March to November
Accommodation: Lodges
Cost: USD 1000-1500
Permits: ACAP-permit, TIMS, USD 500 per person for 10 and USD 50 for each additional day
Upper Mustang: Trek to Isolation
A place unique from most of Nepal, Tibetan villages that were once restricted to outsides, the Last Forbidden Kingdom. This main destination includes Lo Manthang, the walled city. Inside the city, the royal palace from the 15th century will pique your interest along with the traditional Tibetan doctor (amchi) museum and school.
Getting here means flying to Jomsom from Pokhara, from where you travel to Kagbeni to start the trek. This is where you shall acquire your pass and follow the Kali Gandaki River through the valleys to reach Lo Manthang. Wind eroded cliffs and snowcapped mountains will mesmerize you in your journey.
7. Langtang, Helambu, Gosaikunda Trekking
Difficulty: Medium
Elevation: 4460m (Gosaikunda Lake)
Time: around 13 to 14 days
When To Go: March to May and September to November
Accommodation: Lodges
Cost: USD 800-1300
Permits: TIMS, Langtang National Park Entry Permit, Shivapuri National Park Entry
Beautiful Night view of Langtang
If you are looking for a place close to Kathmandu and full of adventure, then this for you. This one begins with a drive from Kathmandu to Syabru Besi then to Langtang Gosaikunda Helambu trail.
Encompassing the Tamang villages along the valleys of Helabmu and Langtang you make your way to the Holy Gosaikunda Lake. The roads are full of Bamboo forests, Rhododendrons, and amazing waterfalls.
You will make your way through the Langtang National park into the Langtang valley and slowly ascend to the Gosaikunda Lake. In the trail, you will cross through Helabmu, packed by forests of Rhododendrons and waterfalls. You cannot miss this natural beauty Nepal trek.
8. Annapurna Circuit Trekking
Difficulty: Medium
Elevation: 5,416m (Thorong La pass)
Time: around 14 days
When To Go: March to May and September to November
Accommodation: Lodges
Cost: USD 900-1500
Permits: TIMS, ACAP-permit
Annapurna Circuit Trekking Adventure Awaits
The most famous of all, the Annapurna Circuit Trekking is one of a kind. Touching three districts, Manang, Mustang, Lamjung, and Myagdi, it brings a huge variety to the table of all trekkers.
From the world's deepest Gorge, the Gandaki Gorge with the depth of 5,571m to the Thorong La pass at 5,416 m, this is truly a wonderous package. The trek starts from Besisahar and from there to Thorong La pass which hosts the magnificent Himalayas, Annapurna Massif, Manaslu, Tilicho peak and Dhaulagiri.
You can also extend a few days and head up towards the Tilicho Lake, the Lake at the highest altitude in Nepal. Then onwards, it's a downhill trek to the Muktinath area. Then onwards to Tatopani to the trail to Pokhara which leads to Ghore Pani and ending at Dhampus.
9. Gokyo Trekking
Difficulty: Tough
Elevation: 5,357m (Gokyo Ri)
Time: 11 to 14 days
When To Go: March to May and September to December
Accommodation: Lodges
Cost: USD 1100-1400
Permits: TIMS, Sagarmatha National Park permit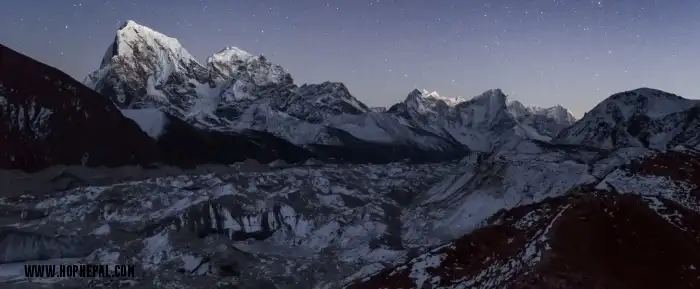 Night View of Gokyo Trekking
This trek gives you a chance to enjoy the great beauty of the Himalayas. Mount Everest, Makalu, Lhotse, Cho Oyu and Ngozumpa Glacier (the largest Himalayan Glacier in Nepal).
The trip is pretty much the same to that of Everest base camp, and the three passes trek till the point of Namche bazaar. You land at Luka and make way to Namche and then make your way to the Gokyo Ri, for some exceptional sight of the Himalayas.
It is a trip for those who would like to trek in the Everest region but would rather pass on the physical strain that follows in the Everest base camp treks. Although it is tough, the sight of the Gokyo Lakes and the view magnificent Himalayas from Gokyo Ri will leave you breathless!
10. Shey - Phoksundo Trekking
Difficulty: Medium
Elevation: 3612m (Shey-Phoksundo Lake)
Time: 10 days
When To Go: March-May and September-November
Accommodation: Lodges
Cost: USD 1500 - 1800
Permits: TIMS, Shey-Phoksundo National Park Permit
Shey-Phoksundo Trek Wilderness Escape
The Turquoise coloured Lake, considered sacred by the Buddhist monks, Shey-Phoksundo, this trek is for those who want adventure in a small package. The trek mostly revolves around the Alpine freshwater Lake of Shey-Phoksundo, which is believed to have an underwater palace and a tantric Mandala of spirits. The Lake is beautiful, and the scenery around the area is not to be missed.
You embark on this trek from Kathmandu through a flight to Nepalgunj, towards the far western region of Nepal. Then you fly to Juphal to begin your trekking for the Lake. Slowly ascending through the thick alpine forests, you will see some magnificent waterfalls along the way as you reach the Lake.
This trek will give you a sense of peace as you wander around some ancient monasteries that surround the Lake.
11. Kagmara La Trekking
Difficulty: Tough
Elevation: 5115m (Kagmara Phedi)
Time: 5 to 6 days
When To Go: March -October
Accommodation: Lodges
Cost: USD 800 - 1100
Permits: TIMS, Shey-Phoksundo National Park Permit
A difficult yet rewarding trek in Nepal, Kagmara La trek is for those who want the rush of a bit of extreme adventure in a small package.
An arduous trip in the mountainous geography made worthwhile because of the scenic Himalayas. People also come here to see the elusive slow leopards and blue sheep which appear in this region and even the peak of Kang Chunne.
Although for those who wish to travel here, most travel agencies will not provide a separate package for this trip. The trip begins once you join the trail connecting Jumla and Dunai.
12. Mardi Himal Trekking
Difficulty: Tough
Elevation: 5115m (Foot of Machhapuchhare)
Time: 5 to 6 days
When To Go: March-May and October-December
Accommodation: Lodges and tents
Cost: USD 400 - 600
Permits: TIMS, ACAP-permit
Mardi Trek Mountain Bliss Awaits
This one is worth every second of your time and every penny! You will be able to have a look at the magnificent Machhapuchhre, Annapurna and Hiunchuli. Accompanied by fragrant Rhododendrons and the warm Magar and Gurung hospitality, this one is suitable for all sorts of trekkers.
This one is truly a gem for solo trekkers, self-exploration can be an eye-opening experience in this area. The trek starts at Pokhara. Then you will drive to Kande and trek to Pothana. After that low camp, high camp and straight to Mardi Himal and get lost in the lap of Machhapuchhre!
Trekking Preparation For Nepal
Greater the amount of time you spend on preparing for the trek, better will be your overall experience. Now, these general tips that can be used in all sorts of trekking not just in case of treks for Nepal. Here, is a preparation list for you to go over:
Plan Your Trip
Lookup a destination according to your interest, and get in touch with a travels and tours agency based in Nepal. After that, select the package that suits you and hire yourself a guide if you like (although it is highly preferable to hire a guide than not hiring one).
Do some research and compare the prices of packages among various travel agencies and choose a trustworthy one. Comparing the prices is quite essential while booking a trek in Nepal as the prices are quite varied. The travel and tour agencies varied packages for the same trip be sure to compare them before booking a trek in Nepal.
Pack Accordingly
Always pack according to the trek you are going on and the season of course! The trekking seasons in Nepal in most of the places are during autumn and beginning of winter. Remember to pack all the gears and leave behind any if you won't use them; lesser the load, more comfortable it is to travel! However, don't leave out the essentials!
Shop Before You Drop!
We must remind you to buy every essential gear you need. Leaving out your trekking sticks then resorting for a stick made from branches won't be a good choice when you are exhausted! Else you will be stuck in the hassle of buying it from shops in Nepal and won't have the time to examine your choices thoroughly. Plus, although the trekking cost in Nepal is cheap, the gears are not! So be smart, list out all the essentials that you require and go to the shop and buy them beforehand!
Train Yourself
Now you don't necessarily need a ripped body and six-packs, but general fitness is necessary. Go out for long jogs and grab a bicycle to train those leg muscles. Trekking in the Himalayas means you need to focus on those legs more!
Develop a basic fitness schedule and follow it a month or two before the trek. Eat healthily and prepare yourself mentally for the trek that is about to come and get pumped up!
Learn A Bit About The Culture
Now this gives you an extra edge against others when you travel to a place. You know what to expect from the people and how to behave accordingly. Preparing in advance will make your interactions with the locals more enjoyable and even make you excited for the trek.
Be Prepared To Tackle Illness
When going trekking, it is essential to pack some medicines to tackle diseases. Carrying a first aid kit which includes basic medicines for general illnesses like fever, diarrhoea is significant. If you have been taking some medications, please carry that too. While travelling to high altitudes, you should pack Diamox (for altitude sickness). It is best to contact your physician beforehand if you have any medical complications.
Keep Yourself Hydrated
Hydration is important, especially if you are in high altitudes where you may not feel like drinking much because of the cold conditions. Carry some purification tablets and bring something to mix so that you will look forward to hydrating yourself more.
Listen To The Guide
Now, this is something you must always keep in mind. The guides are there you guide you and are prepared to respond to most of the situations. Let them handle the situation if it is out of your hands.
Relax
Remind yourself to relax from time to time. It is not a race, and the slower you go and more rests you take, better will be your adaptation to the thin air in the high altitudes. The critical point is to remember to take rests and enjoy the journey while letting your body adapt to the environment.
Things To Pack Before Going For The Nepal Trek
Although this list will differ according to the type of trek you will go on, we have included gears in this list that will mostly cover all kinds of treks!
Here is the List of Trekking Equipment That You Will Require:
Hiking boots
Flip-flops
Thermal wears
T-shirts/ long-sleeved shirts
Hiking pants
Sets of innerwear
Wind stopper jackets
Down jacket
Snow gaiters (if it snows in the region)
Gloves
Socks
a scarf or a buff
Beanie
Sunglasses
Sunscreen
Water bottle
Water purification tablets
First aid kit
Diamox (Important for high altitudes)
Sleeping bag
Tent (If you plan to camp somewhere)
Trekking sticks
Trekking bag
Loads of snacks
Choosing The Best Trekking Destination In Nepal
Now you are prepared! Time to choose the right trek for you to get the best experience in Nepal! There are 3 types of trek routes in Nepal:
Short treks (less than 12 days)
Medium treks (about 12 - 13 days)
Long treks (more than 13 days)
Booking A Trek to Nepal
There are a lot of agencies and packages which you can choose from. For a list of trekking packages offered by different agencies in Nepal, you can click here, and you will be redirected to HopNepal's packages page. Here you will have a list of packages from various agencies so that you can compare the prices and get the best package.
Note:
While booking a trek in Nepal, be sure to check for availability of guides and potters. They will be accommodating, especially if you plan to go trekking in the Himalayas.
Don't just go after the price tags! The trekking cost in Nepal is already cheap enough; please check the itinerary and the services provided by the agencies too!
Depending upon your budget, fitness, and interest, you can choose your preferred trek type and embark on an adventure! But which places to go? So time to book!
And with that, we conclude our exclusive trekking guide for Nepal. For more information about tourism in Nepal, please visit Hop Nepal. Hope you have enjoyed it and probably have decided on a fantastic trek! Thank you!