Known to the world as the "Land of the Himalayas," Nepal attracts thousands of adventurers worldwide for trekking and mountaineering. It's fine if you enjoy your alone time. You can travel alone, however, those who want to travel in groups can join a Nepal trekking group.
Many Nepalese travel agencies can help you find the finest group to join on a trek in a different part of the country. You may accomplish your trip on a tight budget by booking a group trek. In addition, the majority of Nepalese trekking is the best done in a group. If you want to travel in Nepal's remote areas, book a group trek rather than a solo trek.
Image Cr: Bikat Adventures
Caption: Trekking in Groups in Nepal
Nepal provides trekking enthusiasts with a wealth of opportunities to explore the country's unspoilt regions. Nepal has a number of recently opened trekking paths in addition to some well-known traits. Furthermore, because Mt. Everest is the world's tallest mountain, the Everest Base Camp Trek is famous around the world, and most people only know about it when it comes to trekking in Nepal.
Aside from this hiking, Nepal offers a variety of exciting and fascinating trekking trails that entice visitors to the country. Manaslu Circuit Trek, Annapurna Base Camp Trek, Upper Mustang Trek, and Manaslu Circuit Trek are just a few of the spectacular hiking itineraries.
All of these trekking paths are unique and exceptional in their own right. ON some of the hiking trails, you can hike alone, but some restricted zones, such as Upper and Lower Dolpo, and Upper Mustang, require at least two people to get admission. In this instance, group travel is the ideal option.
Single trekkers who want to trek with other people or groups might join a group hiking in Nepal. Trekking in a group can help you save money on your trip. Furthermore, a group trekking trip is an excellent choice in terms of safety.
It's ideal for people who have their group, and singles can join the group offered by the travel business in Nepal. However, before making a reservation, make sure you are comfortable with the group's other members.
Benefits Of Group Trekking In Nepal
Trekking partner
A group joining trek will give you some trekking companions with whom you will complete your walk. While trekking, you must spend several days with the other members of the group. Spending time with your group allows you to form unique bonds with them. Trekking together can lead to lifelong friendships, and it's a fantastic opportunity to meet new people.
Shared experiences, breathtaking vistas
Your trekking adventure will be more thrilling and enjoyable if you are a part of a group of like-minded people that have a shared aim of hiking. Without question, group hiking or trekking is a fun and easy method to meet new people you might not have met otherwise.
You can have a fantastic conversation with the folks trekking next to you during the group trip. Even if the conversation isn't about your liking, every safeguard means a lot to you while on tour.
Reducing Trekking Cost
Despite their desire to trek along Nepal's hiking paths, many people are restricted by financial constraints. For such hikers, joining a group trip is the best solution.
Affordable adventures amidst Nepal's scenic landscapes
By joining a group trek, you can split the cost of transportation and guides, lowering the overall cost of the journey. Furthermore, sharing lodging with the other members of the group reduces your travel costs. Aside from these, there are numerous more expenses that might be shared among the members.
Safety
In terms of safety and security, joining a group trekking trip is the safest option for everybody. Trekking in a group gives you the confidence to deal with any problems that arise along the journey.
Happy people trekking in groups
In addition, your group members assist you anytime you have a problem. Your buddies will be there to motivate and encourage you when things get rough. For example, suppose someone in a group suffers from altitude sickness when travelling to higher altitudes. In that case, the other members of the group will make an attempt to make you feel better, either directly or indirectly.
When trekking, you must go on trails that are too far from human settlements most of the time. As a result, if any complications arise while travelling alone on such routes, the fun excursion could quickly turn into a life-threatening adventure.
In addition, travelling far into the woods is safer to travel in groups rather than alone. You are not safe from wild creatures when travelling alone in the woods.
For the time being, you may believe that witnessing wildlife in the forest is enjoyable, and it may be, but it can also be deadly. If you go on a group walk, however, the loud-speaking sound of the group may scare off many creatures, preventing them from attacking you.
Permits in Restricted Area
According to Nepalese government regulations, a restricted area permit must be applied for by at least two international tourists. So, if you're visiting Nepal on your own, doing a trek with a group will assist you in obtaining that permit.
Sharing Your Experiences
Group trekking allows you to discuss your history and culture with members of your group from various countries. Trekkers will also get an opportunity to understand about the cultures and traditions of different countries.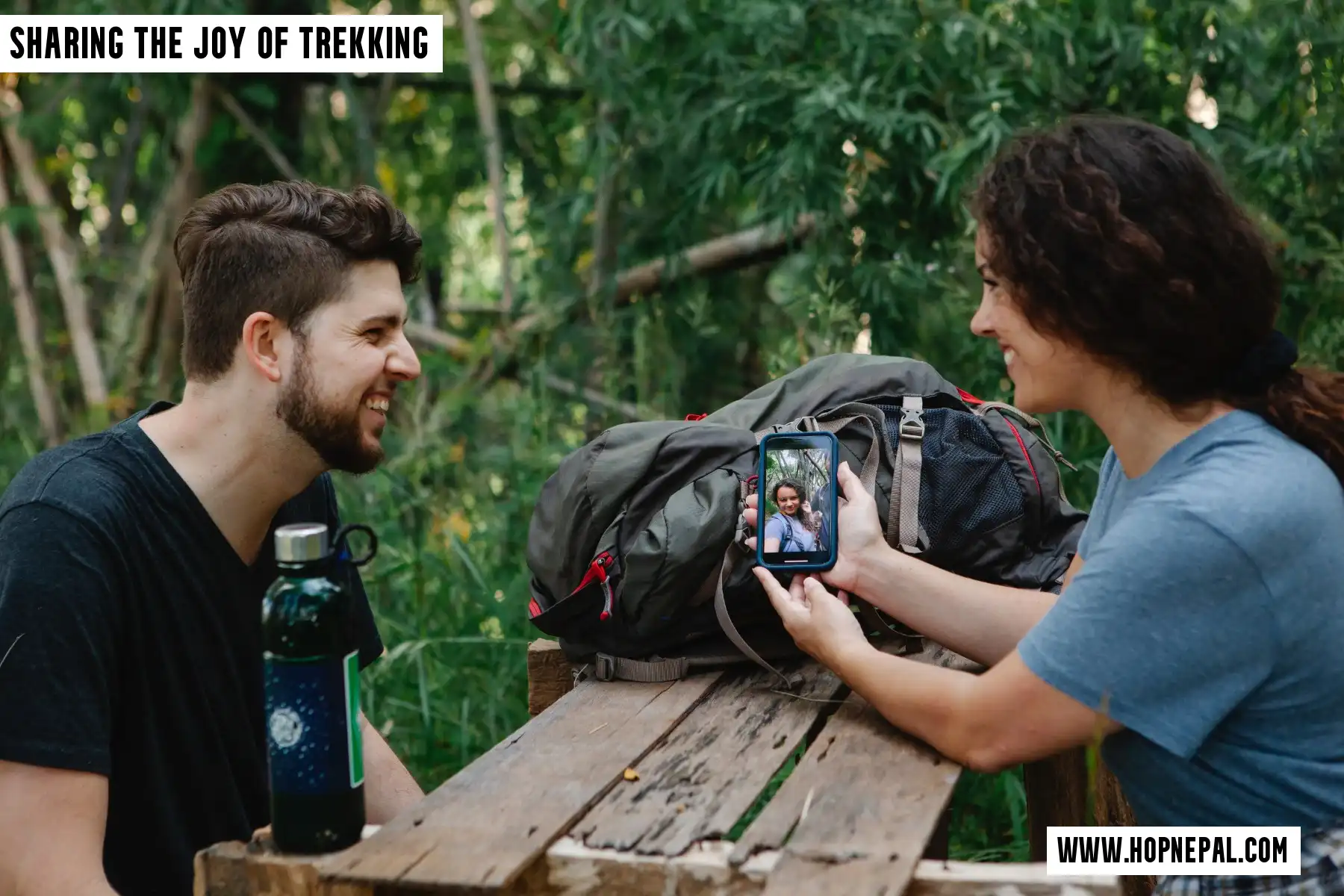 Connecting souls through unforgettable trekking experiences
Apart from that, trekking allows you to immerse in the locals' culture and way of life, which is made more accessible when you travel in a group. When walking alone, though, you may not be able to communicate with the locals openly.
When going in a group, you have a better opportunity of learning more about everything from tree and plant identification to the history of the place you're hiking through.