Overview - River Rafting in Nepal
Nepal is truly a piece of heaven where people can explore culture, tradition, diversity, geographical regions, as well as have a thrilling adventure experience. Nepal is well recognized for its spectacular peaks and treks; similarly, it is also rated as the best white water rafting destinations in the world.
The combination of snow-capped Himalayas, geographical disparity, fascinating cultural diversity, and swiftly flowing rivers makes Nepal one of the top spots for white water rafting.
From over 6000 big and small swift-flowing rivers, you can easily choose where to experience the rafting adventure. Those who are looking forward to a long day's expedition can quickly join the Sunkoshi and Karnali rafting trip combined with a wildlife safari tour in nearby national parks.
For someone who is looking forward to short rafting and family-run can go for a smooth run and experience rafting on Trishuli and Seti.
List of 10 Best White Water Rafting Destination in Nepal
Trishuli River Rafting
Sun Koshi River Rafting Tour 
Kali Gandaki River Rafting
Bheri River Rafting 
Bhote Koshi River Rafting 
Karnali River Rafting
Marshyangdi River Rafting
Upper Seti River Rafting Tour
Lower Seti River Rafting 
Tamur River Rafting
When is the Best Time for Rafting in Nepal?
Rafting in Nepal can be done throughout the year. However, as for Nepal, the best time to raft is usually from September to early December and from March to June. This is when it's the best weather and the warmest heat.
During September to early December, the climatic condition is neither too hot nor too cold, making the trip to rafting very welcoming. Similarly, from March to June Nepal experience a summery climatic condition where the snow melts down rapidly and the river flow is swifter. The swift-flowing rivers are the best for rafting in Nepal. 
Rivers are rated for their difficulty on a scale of class 1 – 6
Here in Nepal, rivers are rated on a scale of 1 to 6 as per the difficulty level. Here we have mentioned to you the kind of difficulty as per their scale.
Class 1: With little or no barriers, the channel has a slow flow in this class.
Class 2 and 3: Rivers usually move with some barriers and speeds ranges from small to medium scale as the class moves to three
Class 4: Rivers have long, continuous white water sections and large waves requiring strong paddling and good boat teamwork in this kind of section
Class 5: Rivers have intense, long, rapids and large holes, needing some good paddling and ideally some rafting experience beforehand.
Class 6: this class is close to impossible for rafting; however, some highly qualified people tend to raft in this section.
People from various corner of the world have the misconception that Nepal is usually all about Mt. Everest and Himalayan trekking. But have you ever stopped for a moment and talked about the rafting tours of Nepal? Yes, it's true rafting in Nepal is pretty underrated yet, we can say, rafting has great potential in case of attracting tourist due to the naturally swift-flowing rivers throughout the country. Here today, we have mentioned some of the locations that provide the best rafting facility. So, stay tuned to us until the end.
Top 10 Rafting Tours in Nepal
1. Trishuli River Rafting 
The fascinating scenery to enjoy while rafting in Trishuli River the gorges, high hills and a glimpse of the cable car to the Hindu Manakamana temple which lies just in the way. Trishuli River is Nepal's fastest and most common rafting on the way to Pokhara and Chitwan National Parka, and it is the most popular tourist attractions.
Thrills on Trishuli: River Rafting
The rafting in Trishuli can be done for one to three days. As Chitwan National Park and Pokhara are easily accessible from the Trishuli River, many rafters couples their rafting with a tour to Chitwan or Pokhara National Park as well. This river in Nepal also serves people of all ages and levels of ability and is one of the country's most popular rafting spot.
Facts 
Class- III
Duration- 1 day to 3 days (depends upon the preference of client)
Starting point- Charudi
Ending point- Gaighat/ Fishling
Distance- 60 Km
Best season to raft- Throughout the year
Perfect for- Waterways from Kathmandu to Pokhara
Difficulty level- Beginners
2. Sun Koshi River Rafting
Nepal's Sun Koshi rafting is rated one of the ten most popular bay journeys in the country. Sun means gold, and in Nepali, Koshi means rain. Sun Koshi is therefore regarded as the Gold River.
Sun Koshi Rapids: Rafting Adventure
The Sun Koshi used for rafting, and intermediate kayaking comes from the Autonomous Region of China in Tibet. Sun Koshi River trip is an unforgettable mix of swift-flowing whitewater with fantastic scenery.
Traversing 270 kilometres of river running through the beautiful Mahabharata Mountain Range, the rafters can see high mountains, an open valley, beautiful forests and remote villages at the beginning when travelling along the longest Sun Koshi River of Nepal.
Similarly, the river flow through the Koshi Tappu Wildlife Reserve, it is likely to see many species of animals and birds along the way.
There are no roads and towns between the rafting trip making it one of the most challenging rafting tour. A trip to the Sun Koshi River is excellent for boasting some biggest waves and spending quiet nights under the open sky camp on the fine sandy beaches.
Facts
Class- III-IV
Duration- 8 to 10 days
Starting point- Dumja
Ending point- Chatara
Distance- 270 km
Best season to raft- September to November, May to June
Perfect for Nature and adventure lovers
Difficulty level- Intermediate to Advanced
3. Kali Gandaki River Rafting 
Kali Gandaki is a great rafting place in Nepal for someone who is searching for a quick rafting trip. Kali Gandaki lies on the high Tibetian plateau in Mustang and in between Dhaulagiri (8,167 m) and Annapurna (8,091 m) which is the deepest gorges in the country.
 Kali Gandaki: Thrills on Water
Currently, Kali Gandaki is a prominent trekking route, including the Annapurna Conservation Area (ACAP), from Pokhara to Muktinath on the Annapurna circuit. The Kali Gandaki river is one of the most exquisite whitewater adventure rafting rivers in Nepal.
Spectacular views of Mt. Annapurna, Machhapuchhre, stunning terraces, valleys and waterfalls are the primary significance of the adventurous trip. 
Facts
Class- IV-V
Duration- 3 days
Starting point- Maldunga
Ending point- Mirmi
Distance- 90 km
Best season to raft- September to November, April to June
Perfect for Natural beauty
Difficulty level- suits all class level
4. Bheri River Rafting 
Bheri River is the easiest river that originated from the Dolpo region in Nepal. The Bheri flows from the Surkhet canyon before meeting the Karnali River and eventually passes through the Bradiya National Park in the mid-western region of Nepal and reach the plain Terai
Bheri River Adventure Awaits You
On this river very few tourist rafts as it is a non-tourist area. Although the Bheri river is easy to raft, there are several speeds and thrilling trips along the way. The traditional Nepali villages with well-preserved ancient traditions can be explored while rafting.
Previously the nomadic hunting tribes Raute lived around the Bheri river, and we can still find these tribe of people in the bank of the river. The river reaches the Bradiya National Park on the final day where you can find various flora and fauna including dolphins.
Facts
Class- III
Duration- 4 days
Starting point- Samjhighat
Ending point- Bardia National Park
Distance- 105 km
Best season to raft- Throughout the year
Perfect for Families, bird lovers
Difficulty level- Beginners
5. Bhote Koshi River Rafting 
The Bhote Koshi is known as one of the world's fastest white water river. Bhote means Tibet, and in the local language Koshi means river. So, the Bhote Koshi river's name originated from the mix of Nepali and Tibetan language. Rafting in the Bhote Koshi, Nepal's steepest river, is an excellent trip for those with some experience beforehand.
Bhote Koshi Adventure Await You
The river originates from the mountains east of Tibet's Kathmandu-Lsa Highway. In Bhote Koshi, there is the facility of two class of rafting where IV-V is the rapid flow of water ad at III; there is a lower level of water flow. Rafters with limited time in Nepal can therefore comfortably in class III type.
Baseri is the rafting's most significant put-in point which is located in northeast of Kathmandu.
Facts
Class- III to v
Duration- 1 to 2 days
Starting point- Lamasanghu/Baseri
Ending point- Dolalghat
Distance- 22 km
Best season to raft- Throughout the year (however September to November, April to June are a perfect month)
Perfect for Families, bird lovers
Difficulty level- Suits all skill levels
6. Karnali River Rafting
Rafting on the Karnali River is one of the best trips in the world, especially for those who want an extreme adventure in Nepal. Karnali means Holy Mountain Water, and it is Nepal's largest and widest 507 km (314 miles) long river.
Karnali River's Wild Adventure Awaits
It originates from the Tibetan plateau near MT. Mansarovar in Tibet and flows through the Himalayas, gorge and tropical forest, wildlife and remote village. The beautiful golden Masheer and giant catfish in the Karnali river bring charm to the abundant aquatic life of the Himalayas.
This river is also considered as best fishing rivers. Most of the area of the Karnali River lies in the least populated zone in the western part of the country. Seasonal snow melting and storms can cause the river to rise and create white water rafting more adventurous. 
As a lifeboat on the Karnali River ends in Chisapani, near Bardia National Par, we strongly recommend you combine your rafting adventure with a jungle safari trip to Bardiya National Park. There, among other animals, you can spot one-horned rhinos and elusive tigers and interact with Nepali's Tharu ethnic group. 
Facts
Class- IV to V
Duration- 10 Days
Starting point- Dungeswar
Ending point- Chisapani
Distance- 180 km
Best season to raft- October to November, April to June
Perfect for Remote adventures in the wild, dolphin encounters
Difficulty level- Advanced
7. Marshyangdi River Rafting
Marshyangdi River in Nepal has long been renowned for rafting with spectacular Himalayan scenery, mountains, vibrant Marshyangdi canyon and world-class white water. To raft in this river, you need to have only few lifeboat skills as its difficulty class ranges from class IV-V.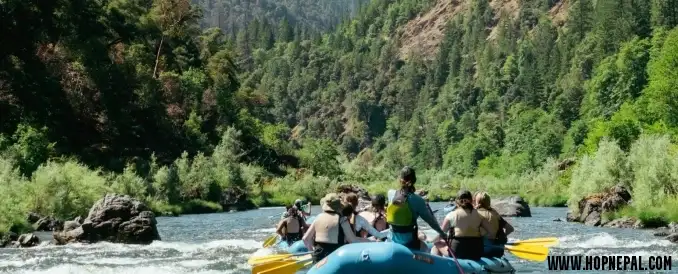 Thrills on Marshyangdi's Rapids
A lifeboat in Marshyangdi is the best option for rafters to experience, with limited time. The water level in the monsoon is wild when rafters enjoy mostly as the riverways get challenging adventure in gigantic white water. Not to forget, Marshyangdi is also the best river for Kayakers.
Facts
Class- IV to V
Duration- 10 Days
Starting point- Dungeswar
Ending point- Chisapani
Distance- 180 km
Best season to raft- October to November, April to June
Perfect for Remote adventures in the wild, dolphin encounters
Difficulty level- Advanced
8. Upper Seti River Rafting Tour 
The short and adrenaline-filled rafting experience in Upper Seti River is only half an hour from Pokhara's Lakeside, promises one and half hours of thrills with the class of III+/IV. With beautiful views of the Annapurna Mountains, the whitewater of the mountain is an ultimate half-day trip.
Upper Seti Rapids Adventure
Mother Nature moves better than some other streams on the Upper Seti as it has the same amount of speeds as the Kali Gandaki, the difference being that it takes only 40 minutes to experience the thrill. In contrast, Kali Gandaki takes three days!
If you're an adventure lover, you're sure to fall in love with the fastest, most challenging Upper Seti river rafting. Take note that after the monsoon season in mid-September through October, Upper Seti is the most fun as the water levels are high.
Facts
Class- III-IV
Duration- Half Days
Starting point- Bamboo Bridge
Ending point- The Dam
Distance- 7 km
Best season to raft- September to June
Perfect for- Adventure lover/Thrillseeker
Difficulty level- Intermediate
9. Lower Seti River Rafting 
A remarkable Lower Seti River flows across two stunning and contrasting scenic areas offering a good range of Nepal scenery with local villages, terraced rice fields, waterfalls, suspension bridges, wildlife-rich forest and a beautiful white sandy beach for camping.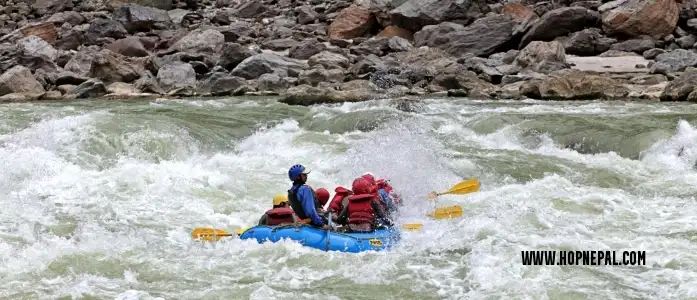 Scenic Lower Seti River Rafting
The Lower Seti is an excellent introduction to whitewater adventure with relatively small water volume and a very nice warm water temperature, ideal for children, first-timers, nature lovers or those interested in learning to kayak the river as well.
This is a great way to get off the beaten track and experience a relaxing alternative to the bus to one of Nepal's most famous adventure travel destinations.
Facts 
Class- II- IIII
Duration- 2 days
Starting point- Bamboo Bridge
Ending point- Gaighat (3 hours from Kathmandu)
Distance- 32 km
Best season to raft- September to November, May to June
Perfect for Newbies, families, bird watchers
Difficulty level- Beginners
10. Tamur River Rafting 
For those who are searching for a more serious all-around ride, it must be the Tamur. This travel blends a Himalayan trek with raft guides who describe this place as some of the world's best whitewater.
Thrilling Tamur River Rafting Adventure
The trip begins with around four days and three-night trekking through the Himalayas overlooking Everest, Makalu and Kanchenjunga, and a 3000 m high pass. A highlight is the Gufal Pokhari camp, a beautiful lake with amazing views.
Then you reach the river where you've just started the adventure! The rafting begins with the river's two biggest rapids. Nothing like warming up gently! For the whole trip, there are non-stop Class IV rapids (over 130 of them crammed in 120 km!). Yes, this trip is only for travel junkies.
Facts
Class- IV-V
Duration- 4 days
Starting point- Dobhan
Ending point- Chatara
Distance- 131 km
Best season to raft- October, November and April
Perfect for Newbies, families, bird watchers
Difficulty level- Beginners
Various other thrilling river rafting experiences are:
Arun River
Buri Gandaki River
Seto Khola and so on.
One-day or multiple-day Rafting Tours
Well, Nepal is famous for both one-day rafting tour as well as multiple days. Kathmandu and Pokhara are the two cities where most travellers choose for a one-day white water lifeboat.
When tourists are short on time and are looking for a fast rafting experience, the best choice is a day trip. Lunch is consequently provided in a river camp along with transportation.
If you have sufficient time in Nepal, it is possible to take multi-day trips heading deep into the natural beauty of the country. It allows rafters to see the nature and the landscape of Nepal from closer proximity.
If you are up for multiple days of trip rafting in rivers of Nepal, then everyone gets a private tent. During campfires, the guides do a great job of cooking delicious and healthy meals along the way.
How Much River Rafting Cost in Nepal?
The cost of rafting varies from company to company. The rate is also profoundly affected by the number of trip days. The longer you take the rafting days, the costlier it gets. At the same time, a 10-day trip to the United States that cost several thousand dollars, a comparable trip to Nepal is more within the range of $800-1,200.
All nutrition, tent rental, supplies, and ground transportation are included. One day trips cost approximately $70, including food and transportation. If you've had a good experience, thank the guides. Nepal's guides aren't well paying and enjoy the extra money.
Make sure to tip the guides directly (or give them over on a long trip to a head guide) instead of offering them the service, as in the latter case it is not always given to the guides.