West Nepal is a new and untouched destination for tourists. West Nepal, previously overlooked, is becoming increasingly popular due to affordable airfares to significant cities and effective air connections to rural regions.
Even helicopter trips to breathtaking locations like Shey Phoksundo Lake, Rara Lake, and Khaptad National Park have grown in popularity.
Helicopter Tour To Visit Shey Phoksundo Lake
Shey Phoksundo Lake, at 3,660 meters, is Dolpo's biggest lake. While hiking for 6-8 days is the most common way to view Phoksumdo Lake, a helicopter from Juphal or Nepalgunj is also an option.
Image Source: Nepal Trekking
Caption: Shey Phoksundo Lake
However, we urge you to spend at least two nights at the lake to appreciate how wonderful it is. You may hike down to Juphal in two days at the end of your vacation.
Highlights of the Trip
Take a breathtaking heli flight to Phoksundo Lake once in your lifetime.

Visit the Bonpo religion's historic monasteries.

Take memorable photos with the Kanjirowa mountains and, of course, Phoksundo Lake in the backdrop.

You can observe Musk Deer, Blue Sheep, and Tibetan Argali. Be noticed by a Snow Leopard!
Helicopter Tour to Visit Rara Lake
Rara is Nepal's largest lake, and its location at the top of a hill is breathtaking. To get here in luxury, use a helicopter from Surkhet or Nepalgunj(Birendranagar).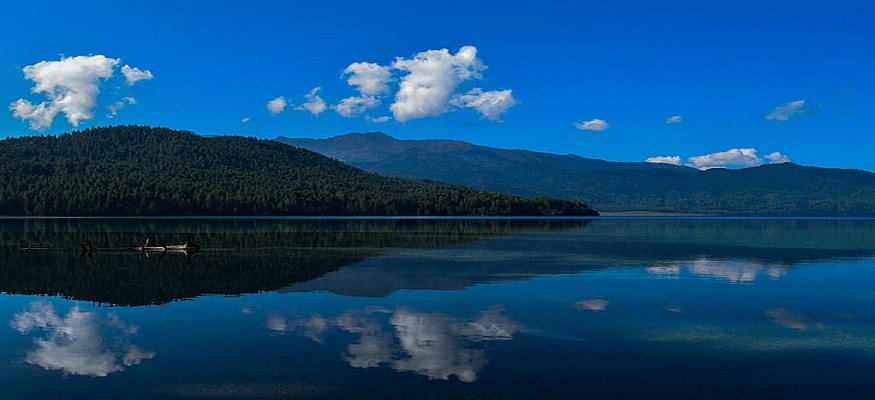 Image Source: Wallpaper Flare
Caption: Rara Lake
Highlights of the Trip
Take in the breathtaking bird's-eye perspective of Rara Lake.

Relax on the banks of Rara Lake.
Helicopter Tour to Visit Khaptad National Park
The primary travel destinations in far-western Nepal are Khaptad National Park and Khaptad Baba Ashram. While most people visit these destinations by car or on foot, it is also feasible to see them by helicopter.
Image Source: Kantipur Holidays
Caption: Khaptad National Park
It is also feasible to visit the Badimalika Temple via helicopter. You may also have the helicopter drop you down in Khaptad and explore the region at your leisure.
Helicopters now operate from Nepalgunj or Dhangadhi airports.
Highlights of the Trip
Khaptad's undulating meadows and woodland provide excellent adventure and exploring options.

You can see Khaptad Lake, the Saipal Himal range, and Mount Api.

Khaptad offers a perfect opportunity to watch the Triveni river for Hindu pilgrimages.

Khaptad National Park contains around 224 distinct varieties of mountain flowers and medicinal plants.
Helicopter Tour to Visit Badimalika and Khaptad
To get the most out of your helicopter trip, combine visits to Badhimalika Temple and Khaptad National Park. Even though Badimalika Temple is only 35 kilometres from Khaptad as the crow flies, travelling there by road takes at least two more days.

Image Source: Walk Through Himalayas
Caption: Badimalika
Highlights of the Trip
You could see Khaptad Lake, Mount Api and the Saipal Himal range.

Visit the sacred place of Badimalika Temple and make a wish that, if the tales are true, they will come true.

Khaptad's meadows and woodland provide excellent chances for adventure and discovery.